Body Composition Monitor HBF-222T
RM 50900

RM 509.00

Save RM 130
---
---
Product Features
4 Users Memory with Auto Recognition for the Users
You only enter personal data the first time; after which the monitor recognizes the user when you step on it.
Visceral Fat
Body Age
Calculated by using your weight and body fat percentage to assess if your body age is above/ below the average for your actual age.
Age range is 18 to 80 years old.
OMRON connect App makes it easy to view, save, and manage your health data
Export data to .csv file for sharing with your doctor and take charge of your health!
Bluetooth Connectivity



Allow you to track your readings via OMRON connect by wirelessly syncing to your smartphone
Omron Connect
Simple to Connect
Easy setup process for automatic data transfer.
Access Anytime
Your latest activity and personal history is always at your fingertips with your health data securely stored on your smartphone.
Clear and Insightful Results
Spot trends and monitor your health over time.
Intuitive Dashboard
View recent measurements on the dashboard and get visual reminders to measure frequently.
Keep Track of Your Health
See how your health has changed over time with clear graphs and charts.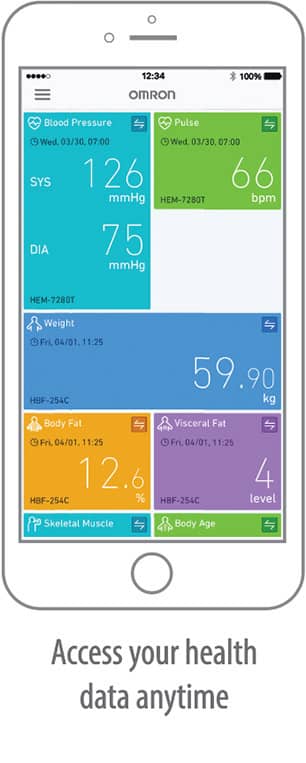 Colour of screen lightens on Home Page: reminder for user to measure frequently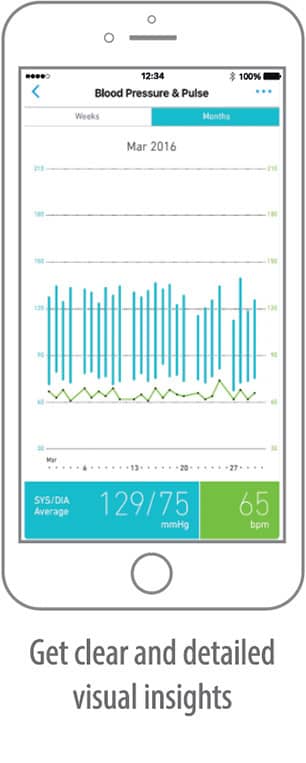 Graph format is correct at time of printing and subject to changes with upgrade of APP
USAGE MANUAL
---
We Also Recommend